1) Confidence is required.  Know how to use your stove to make cooking safe.
2) Get in the kitchen and try it!
3) When entertaining, use known recipes and follow them precisely.
4) If you think it might taste good, there is only one way to find out.  Go for it!
That's what friends and family are for.
5) Write It Down!!! You will have a better chance of a repeat performance!
Jeff has been cooking for over 25 years for catered parties, fast food restaurants, family gatherings, and community events.  He gives thanks to his mom and grandma for giving the encouragement to try new things and the understanding to know when they work and when they don't. 
---
This section is devoted to those in the world who like to try new things and if they work, you will find their experimentation here. 
Give it a try yourself and broaden your horizons. 
'We all have to eat, why not make it good.'- Jeff Karr
---
KARR'Z Sunset Sauce can be used many different ways that you would not use other commercially available bar-b-que sauces. 
Here are some of the different ways KARR'Z Sunset Sauce has been used.
D.H. from Eureka, CA recently submitted this tip-
Use KARR'Z Sunset on Salmon! Just enough to glaze the fish, bake in the oven until done and enjoy!
Put about a teaspoon of sauce on a freshly shucked oyster and place on the grill until cooked, about 3 to 5 minutes.  
2 bottles KARR'Z Sunset Sauce
16 Slices of Cheddar Cheese
Slow cook pork shoulder at 275 degrees until internal temperature of 195 degrees in a covered pot to keep in moisture.  Remove from oven and let cool until you can safely "pull" it.  After shredding pork, add KARR'Z Sunset Sauce until it reaches your desired consistency and flavor.  Spread on a soft french roll, top with a bit more sauce and some cheddar cheese and you will have a party favorite.  Great for lunch and dinner. Makes 8 Sandwiches.
Shredded Chicken Sandwich
This recipe was submitted by N.S. of Arcata, CA.

I'm not much of a cook, but I boiled and shredded some chicken, then sautéed onion and bell pepper, then combined veggies and meat and cooked it slow marinating in your sauce. I put this concoction on french rolls and melted a ton of cheese on it in the oven. One of the most delicious sandwich experiences of my life. I made sure not to use any other spices or anything, just the sauce, so I could get a true sense of the taste. Outstanding.



Place your favorite chicken pieces in a shallow baking dish, brush the chicken with Sunset Sauce to coat and place in a 375 degree oven for approximately 45 minutes to 1 hour.  Make sure juices run clear and internal temperature has reached at least 165 degrees.  Get out plently of napkins and enjoy!
2 cups KARR'Z Sunset Sauce
Mix Sunset Sauce with mayonnaise, brush on raw chicken and bake in a 375 degree oven until cooked to an internal temperature of 170 degrees. 
1/2 cup bread crumbs or crackers
3/4 cup KARR'Z Sunset Sauce
Mix ground beef, chopped onion, chopped garlic, bread crumbs, egg, and KARR'Z Sunset Sauce in large bowl until well incorporated.  Place into a loaf pan and pour additional Sunset Sauce on top and spread to cover.  Cook in a 375 degree oven for approximately 60 minutes.  Cooking times vary, cook until internal temperature reaches 170 degrees.  Increase oven temperature to 425 degrees.  Remove meatloaf from oven and let sit for approximately 10 minutes.  Remove from loaf pan and place on cookie sheet.  Drizzle additional Sunset Sauce over top of loaf and let run down sides.  Place back into oven for approximately 10 minutes to carmelize the sauce.  Remove from oven, slice and enjoy!  Goes great with macaroni and cheese or mashed potatoes and gravy!
2 boneless, skinless chicken breasts, cut into 1" cubes
2 red bell peppers, cut into 1" cubes
1 cup baby carrots, cut into thirds
1/4 cup KARR'Z Sunset Sauce
Using a covered casserole dish and preheat oven to 375.   Pour into casserole dish; rice, red bell peppers, baby carrots, garlic, chicken,  KARR'Z Sunset Sauce, Olive Oil, and water.  Stir together until well combined.  Place lid on casserole dish and bake in oven for 1 hour and 15 minutes.  Remove from oven and top with cheese if desired, place back into oven without lid to crisp cheese, usuall about 10 minutes.  Remove from oven and enjoy!
3 or 4 Boneless Skinless Chicken Breasts
1 cup KARR'Z Sunset Sauce
1 can Kidney or black beans, drained and rinsed
Using a covered casserole dish and preheat oven to 375.  Pour into casserole uncooked rice and water.  Place chicken breasts on top of rice to cover, pour on top of chicken breasts 1 cup of KARR'Z Sunset Sauce, layer bacon and then beans.  Cover and bake for 1 hour and 15 minutes.  Remove from oven and remove lid.  Cover top of casserole with cheese and place back into oven for 15 minutes or until cheese is melted and golden brown around edges.  Remove chicken breasts to a plate and enjoy a side dish of tasty rice! 
KARR'Z Sunset Sauce to taste
Add KARR'Z Sunset Sauce to a can of pork and beans and heat through.  Enjoy as a side dish or add weinies for that old family favorite with a kick!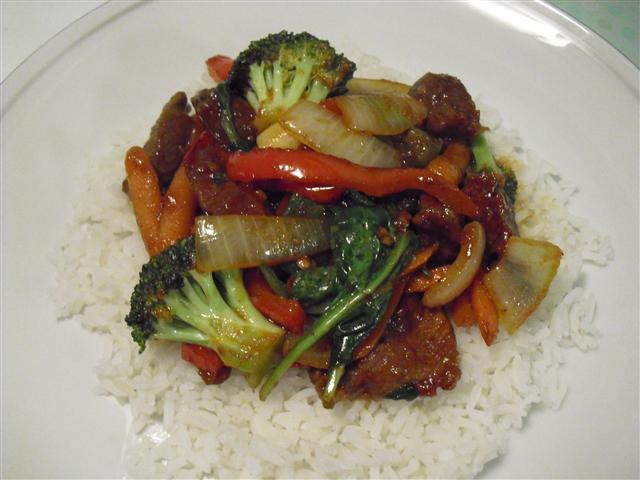 Use chicken, pork, or beef.  Cut meat into bite-size pieces and dredge in Sunset Sauce.  Lay out on a shallow baking dish and put into the oven, preheated to 425 degrees.  Allow time to both cook the meat and carmelize the sauce, check at 10 minutes, overall cook time is 15-25 minutes.  Rough chop vegetables- we used broccoli, red and green bell peppers, carrots, onions, and garlic.  Saute vegetable in a frying pan with Toasted Sesame Oil until hot and crisp.  When meat is ready mix it with the vegetables and plate mixture over a bed of rice. 
Prepare a steak to your liking and simply pour a bit of KARR'Z Sunset Sauce over the steak or on plate!
Add KARR'Z Sunset Sauce to prepared meat for tacos or burritos.  It adds lots of flavor and a bit of spice.
Add a tablespoon of KARR'Z Sunset Sauce to your favorite salsa to add a depth of flavor that will keep the salsa bowl empty.
Barbeque Bacon Cheeseburger
Prepare your burgers, bacon, and cheese the way you like and simply add KARR'Z Sunset Sauce.  You can also cook your burgers and then place on cookie sheet, top with KARR'Z Sunset Sauce and place into a 425 degree oven to carmelize sauce before topping with bacon and cheese for an extra tasty treat.
Use Sunset Sauce as a brushed on sauce to add to all of your grilled meats, fish, and vegetables.
Use as a dip for chicken strips, potato chips, crackers, cheese, and anything else you like to have a kick.  Mix with ranch for an extra bit of creamy goodness.
If you have any other ways in which you have used KARR'Z Sunset Sauce, please send us your feedback using the '
Contact Us
' form.  Your input is greatly appreciated and we hope that you enjoy KARR'Z Sunset Sauce as much as we do.